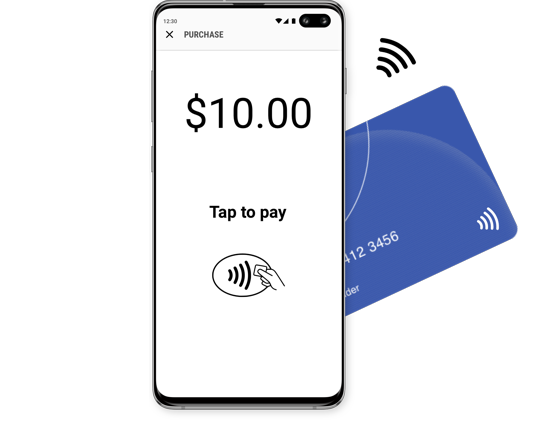 26 February 2020
Payments technology continues to evolve with innovations emerging that cater to increasingly digital savvy consumers. At AusPayNet, we work closely with vendors and acquirers to ensure all new payments solutions effectively balance security and convenience before being used in the card system.
Mobeewave mPOS solution
Canadian payments solutions provider, Mobeewave, in partnership with Samsung and the Commonwealth Bank of Australia (CBA) is set to pilot their mPOS solution in Australia. Mobeewave has developed a solution that turns Samsung NFC-enabled mobile devices into payment terminals. This "tap-to-phone" solution can be used without the need for additional hardware connected to the device (such as a dongle or card reader). Merchants can accept debit and credit payments by tapping a contactless card or digital wallet onto the back of their enabled Samsung mobile device. Merchants who wish to use the mPOS solution can do so by downloading the application and going through a sign-up process.
Australian Certification process
Prior to market deployment in Australia, all new POS and other card-accepting solutions need to undergo a device approval process by AusPayNet to:
Ensure the solution can protect sensitive information
Maintain network interoperability
Support secure innovation, including where solutions are yet to achieve PCI accreditation
Working in collaboration with Mobeewave and CBA, AusPayNet was able to conduct an extensive review of the new solution to identify potential security risks and the appropriate mitigants. This enabled Mobeewave, together with CBA, to implement additional controls to ensure a secure solution for the pilot. The approach ensured the mPOS pilot meets security requirements while bringing innovation to market.
The Mobeewave mPOS solution will be piloted in Australia, enabling merchants who sign up for the application to accept contactless payments on their Samsung NFC-enabled mobile devices.
Global Activity
The Mobeewave mPOS solution has been piloted in Canada, where it garnered large application downloads, mainly driven by micro-merchants and small businesses looking to grow their revenue by accepting contactless payments.
Find out more information on our device approval process here.