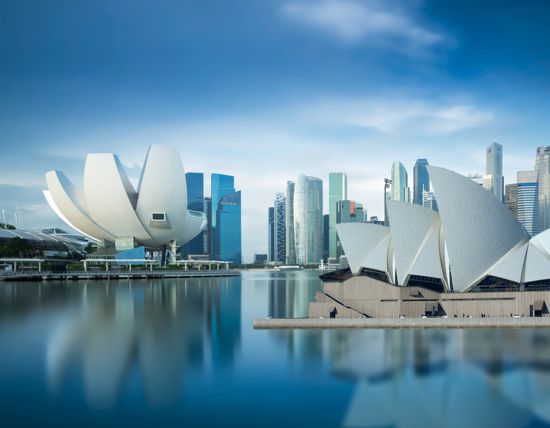 7 May 2020
By Zann Maxwell, AusPayNet Policy Analyst
Australia's digital exports are set to grow, with emerging technologies creating new digital trade opportunities. The payments system plays a key role in the digital economy, and the digitalisation of the global economy presents both challenges and opportunities to the payments system. So what does the Digital Economy Agreement (DEA) with Singapore mean for payments?
The Prime Ministers of Australia and Singapore announced on 23 March 2020 that their governments had concluded negotiations on a DEA. This DEA will upgrade the digital trade arrangements between Australia and Singapore under the Comprehensive and Progressive Agreement on the Trans-Pacific Partnership and the Singapore-Australia Free Trade Agreement.
While Australia has similar DEAs in 14 of its 16 free trade agreements, (including with ASEAN, China, Indonesia, and the USA), Singapore, our largest trade and investment partner in ASEAN and our eighth largest trading partner overall, was a noticeable absentee.
The new arrangements that make up the DEA are intended to assist businesses and consumers to engage with the Australian-Singapore digital economies by removing barriers and providing modernised frameworks and trade rules for increased interoperability between the digital systems of the two countries.
The final text of the agreement itself is still to undergo legal processes before signature and publication later in 2020. However, the key outcomes can be gleaned from the submissions to the public consultation processes that informed it, the Future of Digital Trade Rules discussion paper, and the joint-announcements and publicly released memorandums of understanding (MoUs). They are intended to facilitate practical cooperation initiatives in a number of key areas relevant to payments, including standards and interoperability, digital identity and data frameworks.
Standards and Interoperability
The DEA includes new commitments on e-invoicing and e-payment frameworks, intended to "ensure that these are implemented in a way that is compatible and based on international frameworks". This could impact ASIC's review and update of Australia's e-Payments Code, which may need to take the substance of this Singapore agreement into account.
The DEA will also include provisions aimed at supporting the development of "safe and secure" cross-border e-payments, with promises to drive "transparent and facilitative rules" to enhance the compatibility of electronic transactions frameworks. This will involve pushing the adoption of open application programming interfaces (APIs) and accepted standards such as the ISO20022; the Reserve Bank of Australia (RBA) and the Australian Payments Council (APC) have jointly issued a Conclusions Paper setting the direction for the industry-led project to migrate to ISO20022 by end of 2024.
Singapore also has a common QR code specification for e-payments based on EMVCo QR Specifications, while Australia has a standardised QR code specification for the New Payments Platform (NPP), also based on EMV specifications.
Digital identity
Substantial growth in e-payments and the rise of electronic consumer payments highlight the need for a secure and robust system of identifying individuals online.
An MoU on Digital Identity under the DEA will see the Digital Transformation Agency and Singapore's Smart Nation and Digital Government Office cooperate to develop policy frameworks to "support mutual recognition of digital identity systems, which can support more efficient government interactions by businesses operating across borders." It will focus on the following areas of cooperation:
Legal and regulatory frameworks supporting digital identities, including accreditation of digital identity operators;
Technical standards for the implementation of digital identities;
Policies relating to digital identities; and
Adoption of digital identities by individuals and businesses to promote the use of digital transactions.
In Australia, the Government agreed to Recommendation 15 of the Murray Review to develop a national strategy for a federated-style model of trusted digital identities and requested the Digital Transformation Agency (DTA) to progress work on a government solution. Likewise, the APC's work on the creation of the TrustID framework will assist in mitigating online fraud and improving customer experience.
Data frameworks
As more digital payment transactions become seamlessly embedded in economic activity, greater volumes of consumer transaction data are created.
Data Innovation and sharing are areas that the DEA seeks to support in order to "create an environment that enables and supports, and is conducive to, experimentation and innovation".
This will involve exchanging information and knowledge, including through the use of regulatory sandboxes, and guides designed to assist the agencies holding government data and data consumers to safely and effectively share data; specifically, Singapore's Trusted Data Sharing Framework, and Australia's Best Practice Guide to Applying Data Sharing Principles.
As part of this, the two governments will also seek to demonstrate the value of sharing trusted, anonymised data across borders by cooperating on suitable cross-border data sharing joint projects.
These elements of the DEA will be relevant to the introduction of the Consumer Data Right in Australia, which will give consumers control of personal data, starting with banking before being extended to other sectors such as energy and telecoms.
In summary
The DEA/MoUs comprise high-level principles and provide guidelines for approach, rather than hard regulation. They encourage interoperability and have security and use of standards as a key focus. These are all consistent with the regulatory approach in Australia.
Many of the issues discussed in the DEA and MoUs are also consistent with domestic approaches contained within the Consumer Data Right, the Cyber Security 2020 Strategy, and Digital Identity and KYC discussions.
The DEA has the potential to benefit consumers and businesses by driving further collaboration between businesses in Australia and Singapore.
KEY SOURCES