2019 AusPayNet Summit: Final Report
On 10 December 2019, our Summit brought together more than 300 local and international experts, decisions-makers, regulators, influencers and innovators, sparking lively debate and compelling discussion.
Under the theme of Payments – the key to the best customer outcomes, the Summit explored the convergence of payments, digital transformation, AI, cybersecurity, innovation, stakeholder collaboration and improving customer experience.
AusPayNet Chair, Rob Craig, opened the Summit by encouraging debate to uncover issues that need an industry-wide focus. He quoted French essayist Joseph Joubert, "It is better to debate a question without settling it than to settle a question without debating it", noting that this plays to AusPayNet's strength in driving progress through collaboration.
Shaping a Payments System for the Digital Economy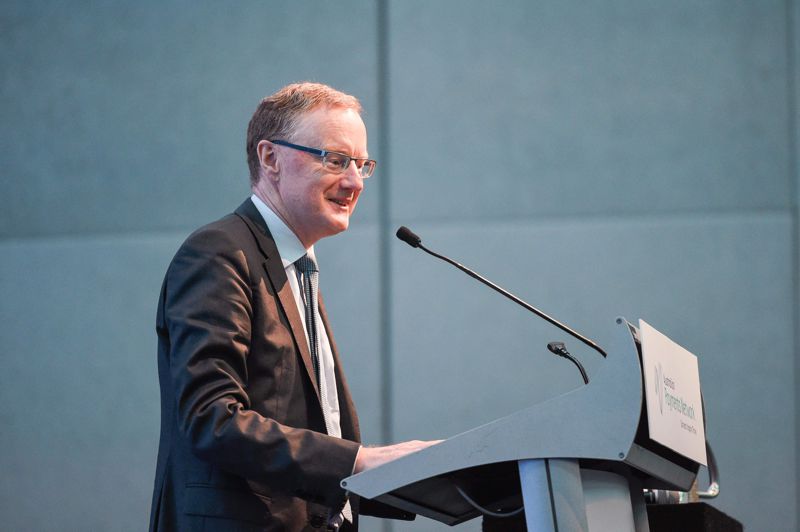 The Governor of the Reserve Bank of Australia (RBA), Philip Lowe's keynote address entitled 'A Payments System for the Digital Economy' set a fitting context for the day's discussion.
The Governor highlighted the substantial progress made in recent years, noting that payments are faster and more flexible, and that we have more choice than ever before. He acknowledged the important role the New Payments Platform (NPP) has played in transforming Australia's payments system and the industry's CNP Fraud Mitigation Framework in helping reduce online fraud.
As payments become increasingly digital, the shift away from cheques is accelerating, and the Governor noted that "at some point it will be appropriate to wind up the cheque system, and that point is getting closer".
Looking to the future, the Governor said further industry work was needed to:
realise the full potential of the NPP
create a strong digital identity system, building on the frameworks developed separately by the Australian Payments Council and the Government's DTA
reduce the cost of cross-border retail payments
improve the operational resilience of the electronic payments system
He concluded his address with an overview of the RBA's Payments System Board review in 2020, which will review retail payments regulation in Australia.
The RBA Governor's address is available here.
John Chaplin: a perspective on domestic innovation
Building on the theme of innovation, global payments expert, John Chaplin, gave a thought-provoking presentation on the importance of domestic payments innovation in global and domestic economies.
According to Chaplin, there are two key reasons why domestic schemes need to "play the innovation game" - changing consumer demand and competition from major international players. Domestic schemes play an important role in enabling payment service providers to meet customer needs, Chaplin said, and if they don't innovate, they "end up in the graveyard".
In countries where domestic payments innovation is fostered, Chaplin said, solutions are tailored to local market needs, the overall costs are lower, and there is a healthy competitive market. In his view, the best market outcomes are achieved by a mix of strong domestic players and international schemes.
Chaplin pointed to the critical role regulators have in maintaining a competitive market, concluding that payments regulation and competition regulation need to align in order to promote innovation.
A case study in Trust: TD Group, Canada
Trust is the cornerstone of a digital economy. Franklin Garrigues, Vice President of Canada's TD Group, shared insights from building a trust framework in Canada.
According to Garrigues, financial institutions need to act as trusted partners to customers and empower them to control their data. Using the example of the Digital ID & Authentication Council of Canada's framework, Garrigues cited the common success factors of a nationwide trust framework to include:
Security and privacy as the foundation of the framework, without compromise
Defined roles, rights and responsibilities of all parties and participants
Common language and standard across payments schemes and institutions
Collaboration between public and private sectors
Garrigues highlighted that the network effect takes time - and that all organisations need to adopt an open mindset to build an ecosystem in which each plays a role.
A view from the Government on competition and innovation
The Hon. Jane Hume, Assistant Minister for Superannuation, Financial Services and Financial Technology joined Robert Milliner, Chairman of the Australian Payments Council, for a fireside chat on key topics around competition and innovation.
The Senator noted the need to align with international standards and the opportunity for Australia to lead the way. From a regulatory perspective, she outlined three key areas of development for payments:
Removing barriers for new players
Allowing room for regulation to open opportunities for market innovation
Remediating legacy issues in traditional institutions
The Senator commended the recently established regulatory 'sandbox' within ASIC, allowing fintech to test the market for new products under a light-tough regulatory framework before going through a fuller licensing regime.
She closed by commenting on the importance of the Senate select committee chaired by Andrew Bragg, which among other things, will be looking at the implementation of open banking.
Update on developments in transport and Open-Loop ticketing
Anne Kinsella, Director of Digital Products from Transport for NSW (TfNSW), provided insights into the Future Transport 2056 strategy and the impact on payments.
Kinsella outlined TfNSW's goal to create 'successful places' and provide services that are safe and sustainable. She spoke about the changing nature of work resulting in the re-definition of peak and off-peak travel and mobility, and TfNSW's plans to invest in tech-enablers that will cater to changing mobility needs. Transport NSW's partnering with Uber to include public transport modes in Uber's popular app, was cited as an example.
According to Kinsella, public transport ticketing has a lot in common with the payments industry, given the importance of open-loop payments as an enabler of ticketing innovation. She also highlighted 'Mobility as a Service' (MaaS) as a key opportunity for innovation.
Digital transformation in finance
Facilitated by Mary McHale, Business Development Director, Equinix, this session outlined the importance of collaboration between financial institutions, government and technology companies in implementing broad-scale innovation in payments.
According to Mahesh Bhalerao, Google's Director of Next Billion Users & Payments Ecosystem Partnerships, finding the balance between authentication and trust delegation is the key to ensuring safety and convenience, while accelerating adoption of digital payments.
Nicholas Hollings, Global Solution Architect for Equinix, discussed how interconnection within a payments system can help improve the overall customer experience. In his view, API-enabled payments will give users the ability to aggregate data from several different sources to create an interconnected network and improve interchange between services.
Both speakers emphasised that the first step in digital transformation is to focus on the user experience and consolidate authentication.
Quantum computing, risk and security
Graeme Pyper, Regional Director at Thales, Dr Tanja Lange, Professor of Cryptology, Eindhoven University (NL) and Andrew Jamieson, Director of Technology & Security at UL gave an informative and witty session on quantum computing and the possible implications for payments cryptography and security.
The panel agreed that while it was possible that quantum computers would be able to break RSA cryptography by 2030, it was a moot point as to whether this capability would be available at commercial scale.
In discussing attacks on Hardware Security Modules, Pyper argued that certification plays an important role in security. Conversely, Lange suggested that certification needs to be from end-to-end, or not at all, as any single uncertified point jeopardises the entire ecosystem.
The Big Debate: "Is Australia ready for digital currency innovation such as Libra?"
The innovation highlight of the day featured academics, technologists and a regulator debating whether Australia was ready for a digital currency such as Libra. The lively and engaging discussion was moderated by chief economist Warren Hogan.
Speakers for the proposition were:
Heath Behncke, Founder & Managing Director, Holon Global Investments
Michael Bacina, Partner, Blockchain Group
Emma Poposka, Managing Director, bron.ID.
Speakers for the opposition were:
Dr Luke Deer, freelance researcher, writer and speaker on financial technology
Professor Toby Walsh, artificial intelligence professor at UNSW and Data61
Michele Bullock, Assistant Governor (Financial System), RBA.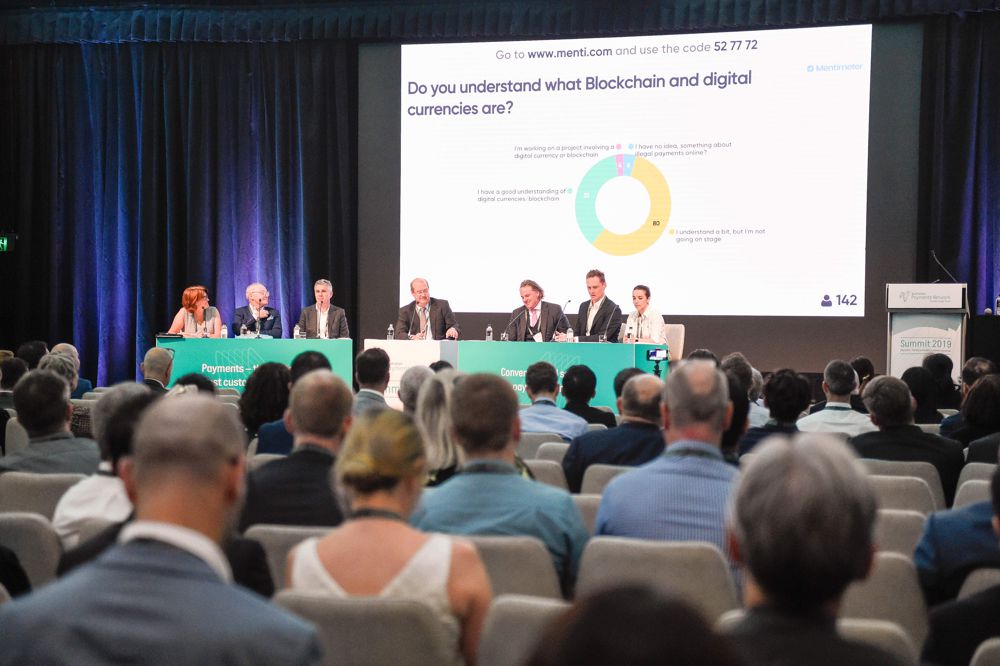 The affirmative side presented convincing arguments around the potential for digital currencies to promote financial inclusion, enhance security through use of blockchain technology, and to overcome the challenges private currencies faced in the past.
The opposing side argued that the appropriate regulatory frameworks have not been set up, and highlighted the potential for quantum technology to compromise blockchain technology, and the price volatility and lack of trust in digital currencies.
While both sides presented thought-provoking arguments, a live poll of audience members revealed that we are not quite ready for a digital currency like Libra - yet.
Avoiding financial exclusion
Leading researcher in artificial intelligence, Professor Toby Walsh discussed the need for technological progress to align with, rather than come at the cost of, financial inclusion. The session focused on AI and the economic potential it offered service providers (AI technology already contributes 10-15 per cent of Australia's economy).
A key issue, according to Walsh, is that AI technology is easy to misuse, resulting in the creation of biases and discrimination. He said new technologies must ensure they are programmed with equal precision, for example, by ensuring ratios of false negatives and false positives were balanced when those errors were made.
Walsh highlighted some of the challenges that, in his view, need to be addressed to ensure financial inclusion was considered when developing new technologies, including:
Australia is facing a shortage of people in the AI field with all minorities being underrepresented; if you want to build good products, you need a diverse team
Organisations need to ensure that in taking and sharing customer data, their customers are getting a worthwhile return
Providers need to ensure they are iterating technologies quickly and making them work in a fast and agile development cycle.
According to Walsh, conversations about AI and financial inclusion should focus on the future of work, and how society can best deal with aspects of jobs that will be automated. In his view, a large-scale upskilling in soft skills such as creativity and emotional intelligence – the things that computers can't do – is required to ensure everyone in society benefits from AI.
What's on the cards - a view from the RBA
Tony Richards, RBA Head of Payments Policy, elaborated on the 2020 Review of Retail Payments Regulation the Governor had touched on in his keynote address.
Richards highlighted that among other things, the review is seeking stakeholder views on:
the possibility of some coordination across domestically-focused payment schemes 
the future of the cheque system
merchant routing, and whether the RBA should take additional steps to enhance competition and efficiency.
the 'buy now, pay later' sector and provisions in dealing with 'no surcharge' rules
The RBA has released an Issues Paper, with submissions due by 31 January.
Tony Richards' full presentation can be accessed here.
Take 5: key take-outs from parallel roundtables
The facilitators of the six roundtable sessions that occurred throughout the day came together in a panel discussion hosted by Chief economist Warren Hogan to discuss the key findings. These included:
AI (Led by Rob Davies, Feedzai): This roundtable focused on the role of AI in digital payments, with a view emerging that to convert AI projects into real customer outcomes, executive sponsorship is required. A priority for AI developers is to ensure ethics and regulations are adhered to, and biases are eliminated.
Bring Your Own Device (Led by Tom Graham, Quest): This roundtable explored the emergence of the software payment terminal. The roundtable discussed 'low-cost' mobile devices as potentially being valuable to merchants in the SME sector as a payments device, as long as appropriate security protocols were in place.
Cloud (Led by David Fodor, Amazon): Touching on the risks and opportunities associated with cloud-based payments, this discussion included the role that regulation could play to ensure security and promote the adoption of cloud architectures.
Trust (Led by John Chaplin, global innovation expert): Digital ID will be the driver of payments in future, according to the consensus emerging from this roundtable. It concluded that trust is crucial to empowering customers and improving security.
New Payments Platform (Led by Katrina Stuart, NPP Australia): The session looked at progress in the NPP rollout, with the use-case of fast and accessible government disaster relief payments cited as an example of its efficacy. New message standards to support further automation, efficiency and straight-through-processing will result in more choice for customers, greater competition and innovation.
ISO20022 (Led by Bill Doran, SWIFT): The alignment of domestic and cross-border payments into a common standard was a key focus of this roundtable. It identified a key opportunity to harmonise standards for NPP, RTGS and cross-border payments, resulting in an increase in productivity, better analytics and customer propositions.
In conclusion
In his closing remarks, Andy White, CEO of AusPayNet, emphasised the transformative work underway in the payments while recapping the day's discussions under the key themes of innovation, digital ID and resilience.
He concluded by thanking all the participants, speakers and sponsors: eftpos, Feedzai, SWIFT, BPAY Group, 7R Talent, Quest, G&D, Equinix, Bottomline, and Bureau van Dijk.